Check out our latest improvements!
In this month's release, you can find even more functionality, speed, and improvements!
In addition, you'll see a new Harbour Resource Center

at the bottom right. Click there to access guides, announcements & support information!
Brand New Agreement Creation Flow
When you click New Agreement, you'll see a brand new flow.
Click Start from template to view all of your existing templates.
Click Upload a document to build a link starting from your own document.
For a guided tour of each new flow, go to your Harbour account and click the Resource Center at the bottom right and then click Guides.
Both new flows contain the same functionality, but with a new look and improvements.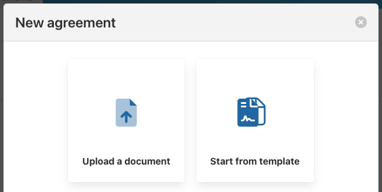 Start from Template
Your existing templates all remain, but are presented a little differently. You can now filter by template name as well!
Click the group name on the left to expand the list of templates in that group. To start creating an agreement, just click the template in the list.
On the right, you'll see a preview of the templates in the selected group. From that preview, you can click to start an agreement, view the preview more enlarged, or click the 3 dots to see more actions.

Start from Upload
This option will allow you to create an agreement from any document. All of the same functionality exists, but with improvements and a new look.
For a guided tour of each new flow, go to your Harbour account and click the Resource Center at the bottom right and then click Guides.
Countersigning
You no longer need to add yourself as "only me" to set up count-signing.
Check out the new (easier) way to add yourself as counter-signer here.
New Upload options
We now support uploads directly from Google Drive, Dropbox, and One Drive.
Check out our new upload options here.
---
Tab Updates
🖊️ *NEW* My Signed Agreements
This brand new tab houses copies of all agreements you personally have signed through Harbour.
📚 Library
Functionality remains the same, with a small improvement to quickly sort by name/date via the Items column header
---
Links
Spend less time clicking into link details to set and view a link's active status!
Activate/Inactivate links in one click via the Dashboard:
For existing links, it is now possible to view files you (or the link creator) associated to the link.
View associated

attachments

to links:
---
Admins
Improvements have been made to the Admin user experience:
As an admin, you now have easier access to your User management tool via the menu at the top right.

A small bug was fixed on the admin dashboard so that the View/Admin View toggle displays consistently.
We've improved the performance of the dashboard so that the Admin View loads more quickly.
---
And more!
You can now edit the name/email for any outstanding signers on an active link even if other's have signed already.
We've implemented a small improvement to handle the upload of large signature files more gracefully.